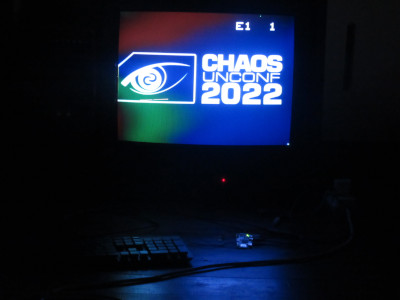 Welcome to
CHAOS UNDEFINED CONFERENCE 2022
[
LIVE
] [
about
] [
shorts
] [
shedule
] [
contacts
] [
keys
] [
.onion
]
LIVE STREAM
Also see videos from [previous conference] on youtube channel [www.youtube.com/user/ChaosConstructions]
ABOUT
This is a conference for hackers, makers, electronics enthusiasts and all around. It is basically online streaming event, but offline visits are also possible. It is located in Saint Petersburg, Russia. The language is Russian (and sometimes English).
We are looking for participants. If you have something interesting to show and tell, let us know.
Also we need more pre-recorded videos to be shot and more fan-art to be drawn. We will include it into live video stream. [Contact] us, if you want to help us with this
SHORTS
Pre-recorded videos will appear here
We have already some ASMR videos uploaded, take a look: [asmr_tv_01.mp4] []
SHEDULE
It is not always correct, things will change..
Chaos Conference 2022 winter

Day one, 26 February, Saturday

[18.00 - 40m - 18.40] - [prerecorded] Interview Block
[18.40 - 40m - 19.20] - [video bridge] SergeyPRS - The Story of Minitel
[19.20 - 40m - 20.00] - nikhotmsk - Konrad Zuse's Z1 computer and other mechanical things
[20.00 - 40m - 20.40] - digitale - Moog Synthesizer and other things from 1960-s
[20.40 - 40m - 21.20] - nadoshmado - DIY Diafilms
[21.20 - 40m - 22.00] - Live Music Block && Diafilms

Day two, 27 February, Sunday

[18.20 - 10m - 18.30] - [Hack && Tell] (Empty Slot)
[18.30 - 10m - 18.40] - [Hack && Tell] (Empty Slot)
[18.40 - 10m - 18.50] - [Hack && Tell] (Empty Slot)
[18.50 - 10m - 19.00] - [Hack && Tell] [video bridge] nopsled - (n/a)
[19.00 - 10m - 19.10] - [Hack && Tell] [video bridge] sersad - Radio Stuff
[19.10 - 10m - 19.20] - [Hack && Tell] nikhotmsk - simple AVI parser
[ cancelled ] - Эрих Гаузер - Программируемые Микрокалькуляторы
[19.30 - 20m - 20.00] - [prerecorded] Interview with superogue - moderator of LOVEBYTE (in English)
[20.00 - 40m - 20.40] - [videobridge] Павел (arif.ru) - Арифмометры
[20.40 - 40m - 21.20] - CORE WARS
[21.20 - 40m - 22.00] - (Empty Slot)

Telegram: @nikhotmsk
E-Mail: [nikhotmsk@gmail.com]
KEYS
If you want to share a secret with us, use this PGP key:
Press here


-----BEGIN PGP PUBLIC KEY BLOCK-----

mQGNBGExCcEBDADntODpaxHWDZvsnRTwFrz/4Xj7F6c0OcaKWoKb3dVUoCQkj7e6
I9ySmFjQeNSzdmkh0MmjDjhQxWq2JvBHNKIErIUHuGxYT8mNR80zICliPPDIt99b
6MHUNIzFDKxD2mi0bndaUWVCdypC7lzf0Xr3ukXeXTKxcZyIscmVqAYfgMfJxdCK
ZHz1k85YL4oaks1wjnLGW56Hi6rWQTQW+vvvsRN9EbdTgHInQGNk2YIfmv3gWFyr
SpTywlpyKxRgMIHC97SXyZcmhWLtrSbzFmxhMAVhN7m96zcm4KyYkL7K64hu8QCT
KvWyN07B/5Nj2IUJ3ZjgRZoUQhQvLiTBxm38rmzGFTc4HjtsD5Jh+KwX+Vl3UIar
kjRi0ouD0lzFXU65qMZB2jGYcMRW8Fn9Vsq3RRzk1Uo8TTooiF5V7/Eu8OeWgZCY
vBiWPmg0e3ZsGMbUrMRKB366zRBUc9xIEcO/UGdCbpn3PXrklck+qAC+QNKp6BW8
vJc/XBsgchjtA2MAEQEAAbQJbmlraG90bXNriQHUBBMBCgA+FiEE2hhDK4cEF8q/
1TG3kyawwTbmD4sFAmExCcECGwMFCQPCZwAFCwkIBwIGFQoJCAsCBBYCAwECHgEC
F4AACgkQkyawwTbmD4uIigwAlWZAmUXBtftfHAzPTO3uSRCcNLreHBe+BZWCTU4Y
LZZawYUjSjATsMVkyphhAysBERdGkUmo/ZvNst7Yh2I58RTj4WBpDklq2Pk4H+m3
RRyEyWn6poez05HQx29OWjSugvDGcQ06jgS9jpi+RQiqudrb0V2oynnuhQQtFdkB
PK8UEYOtHbzc9S5kvgsHgQ40mIvKOuI471Jtyeom2Gxa44TGDJFJ+BLtrvIkuEF2
D9VAS85PsDch/XX70mkrpJg3sYrpxH7S/BTWE4XvOkROCLfF+JtesuRf/hdoF5Ns
gl+EcIvO/SsSZ5NMmu2fS/Mu4W4UYq0xmcu2vyTU0uRffo/OYrPHaiN/e2sAojXF
SBSluHE6w72qVSkrO5DEW7WloLhBkIb3DarnJmnpSNxfioZtAIw1Uw3ioH1osKf6
4M1kURFr47iu3xJ2PPvvaK7TbA43WNZ/LMTgJcgUQjPH64aduIKiEywQdfg95G3f
PPx4rlhOUToowq5/w2RR594EuQGNBGExCcEBDADG10Pka8X2GwZlbEMtbWqyn4J1
4j6FuaXBByMDObsglOIk9Stx4Cl8Q5Vt3d4lf9Om7cKzKngMKrrJQf4BnTHJhrvj
98xPO7XHFpbJZf/hF/P5IGL9MXqrjIktdG6WxnJW6O1QNFqK9JAMxo5S0qjBSUGL
GufneR79g0GvDAy8KlBl3rsYDWw++NJ09/uHBLVoUrEC1Q9pe+h6IdyXDmqtjiBz
iBeO0mS0lUsJvoIwpYeGq3UdWeilq1LqgOuTgmbtpwC97/mrGzkv9WWNz5fH1W+U
fFgZbr9Oi4rnH+9R6mnAgMy2qv4pPNuoA+rk0YWdvVgwtZvrvzDmbBmCgK9tLXs/
tEoxvv9aO+/zUpOA2Aa6oulzldqV4Te44UWY9spkjmiDHjoqosBTydu2LXfBzDEu
vPoKSQTpFTP2igSrjJGQurkhJPDPCHmIbBBnhC51jYTaDhmHaw6vn21Ebj7JRdIF
cbFZ9o2BCbPNXcOvIERNM05uXLTI79rI/Pw9EhEAEQEAAYkBvAQYAQoAJhYhBNoY
QyuHBBfKv9Uxt5MmsME25g+LBQJhMQnBAhsMBQkDwmcAAAoJEJMmsME25g+LjtkL
/iH7ablNmhfEuCjxDZqHxRAQV0YYeLlro0ELpxF9CR2hDHWVWPCWb2Cf6rMX0VpJ
+8bwI/hCUUcGPRw4aML3vCJeLPldwpv0empx1T+FUGTLaiwW87LEOEPcvYDlk8XH
WdaPuWhQQ6f9/AesS9yz7dgylA+Rn58Lq+obULciTuFTWpEDZxHi9fgPrRhoTQVc
9/1z3kDrwsu9GVdd50W2Sk5FvBavHc1/ajhj2HIUIoZv6FuT8IsnxC/xYFTKAEtj
/XXvP9GOnnD6WZadV3BTePl1fwQxlFpHnTSfsHKe3OGQqtrNHSh/g1AGRSPJIBmn
b0X1/+vT7lonl+UOjdxgr6sg6YoTDaRSXjuUa8d+XskbbRF9gQRaswSenxf32+y5
XFTrwf87EUh5IKt6IzylA+SZ/bfVQqp25aBBTGx7SDbHjp117Vj61fat3UwUEjez
DV+M9/JosHbXt5cgJkOXpj9VormeQVZOt2vuVoip/S95qsipAOLOXz0z/Dtt9xoD
Pg==
=1T5O
-----END PGP PUBLIC KEY BLOCK-----

Onion
You can see this page via Tor Anonymity Network
[djma45hmmthdkzgc3fbwvyl2pchcpjl6i23yjqsjsl4sehqoj4k627qd.onion]